The U.S. Federal Trade Commission says that approximately $12 million were lost to Coronavirus-related scams according to consumer reports received since January 2020.
"FTC has received more than 16K Coronavirus-related reports from consumers. Consumers reported losing a total of $12.78M to fraud w/ a reported median loss of $570," said the agency today.
According to the FTC, consumers reported 16,778 fraud incidents so far, with roughly 46.3% of fraud complaints also reporting a loss between January 1, 2020 – April 12, 202
Most reports were received from California with 2,010 consumers saying that they were targeted by fraudsters, followed by Florida, New York, and Texas with over 1,000 complaints each.
Scammers targeting consumers looking for travel and vacations deal were behind over 2,800 fraud attempts reported to the FTC, while online shopping and text message-based scams were trailing behind with 1,741 and 1,017 reports, respectively.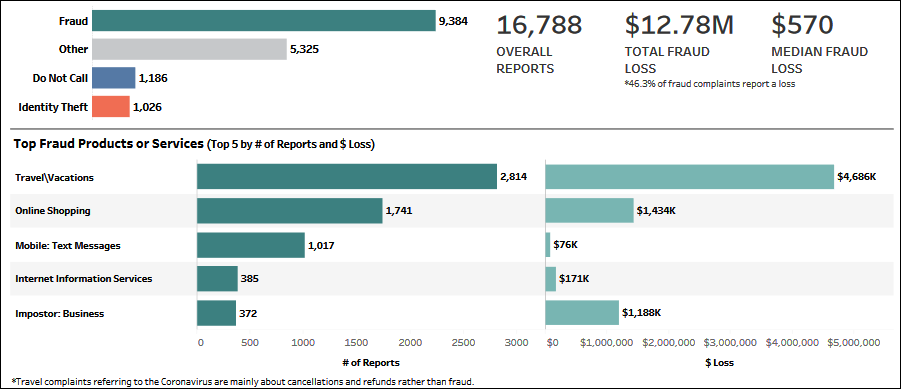 The FTC notified consumers in February about scammers that took advantage of the current Coronavirus pandemic to lure potential U.S. targets via phishing emails, text messages, and social media.
"Scammers are taking advantage of fears surrounding the Coronavirus," the FTC said at the time. "They're setting up websites to sell bogus products, and using fake emails, texts, and social media posts as a ruse to take your money and get your personal information."
One month later, in March, the FTC also warned nine VoIP service providers against assisting and/or facilitating illegal robocalls that capitalized on public anxiety surrounding the Coronavirus pandemic.
"Many of these robocalls prey upon consumer fear of the pandemic to perpetrate scams or disseminate disinformation," the letters say. "FTC staff have reason to believe that one or more of your customers may be involved in such illegal telemarketing campaigns."
37 people are talking about this
In April, the Internal Revenue Service (IRS) issued an additional warning regarding a surge in coronavirus-related scams over email, social media, and phone calls, with the fraudsters requesting personal info while using economic impact payments as a lure.
"We urge people to take extra care during this period. The IRS isn't going to call you asking to verify or provide your financial information so you can get an economic impact payment or your refund faster," IRS Commissioner Chuck Rettig said.
"That also applies to surprise emails that appear to be coming from the IRS. Remember, don't open them or click on attachments or links. Go to IRS.gov for the most up-to-date information."
One month earlier, on March 30, Cisco Talos said that it "has already detected an increase in suspicious stimulus-based domains being registered" and staged for COVID-19 relief package themed attacks.
Re-Blogged from Source : Bleeping Computer